Home
|
About
|
Community Support
|
Contact Us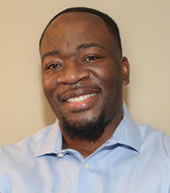 Dr. Cedric D. Alford, MBA, or Dr. Ced, as he is affectionately known by his students, is an accomplished leader with 25+ years of experience helping organizations exceed revenue goals and execute sustainable business strategies across many industries.
Dr. Alford joined the Microsoft Corporation in December 2013, having the core responsibility of East Region Dynamics marketing solution sales. Dr. Alford was also called to offer his experience and perspectives to the marketing, engineering and partner teams relative to the recently acquired marketing automation acquisitions of Marketing Pilot and NetBreeze, eventually evolved and integrated as Microsoft Dynamics Marketing and Microsoft Social Engagement. Dr. Alford's then 20-years as a technology executive also led to several speaking opportunities within Microsoft and at 1st- and 3rd-party conferences.
In 2016, Dr. Alford was asked by Dynamics leadership to lean in and lead the global coselling efforts between Microsoft and Adobe. Dr. Alford not only led the Microsoft and Adobe field engagement but did so as the only sales resource worldwide the first year to create the framework for more investment in global resources and structure. These resources came in abundance, as Dr. Alford was able to support the success of others through onboarding of peers to take over EMEA and APAC, as well as two additional peers in the Americas.
As the deeply-experienced team grew, Dr. Alford was able to reduce his global focus of coselling across each region. This change in geographic responsibility represented the validation of the maturity of the relationship between Microsoft and Adobe. It also represented the strength of their better-together story for helping organizations to digitally transform.
During this period of leadership at Microsoft, Dr. Alford had the responsibility of training worldwide audiences on Microsoft Business Applications Sales Plays as the first Global Black Belt of Marketing at Microsoft. His expertise and training of the field and partners included Dynamics 365 Customer Engagement, Dynamics 365 Customer Insights, Dynamics 365 Marketing, the Open Data Initiative between Microsoft, Adobe and SAP, and many other areas of Microsoft customer and partner value.
Dr. Alford ended his sucessful time on the Emerging Solutions team as the Workload Lead for Dynamics 365 Marketing, Microsoft's 1st-party marketing solution, supporting marketing, engineering, sales, and partners.
In 2019, Dr. Alford accepted the responsibility of helping partners with an interest in integrating with Microsoft Dynamics or Power Platform to achieve that goal. In the role of U.S. Director of Business Development, Dr. Alford led the U.S. team of Partner Development Managers. This team had the sole responsibility of recruiting partners into the Microsoft Business Applications ISV Connect Program, which is the only program available for accessing the Microsoft field to cosell ISV ("Independent Software Vendor") solutions that are certified in Microsoft's Business Applications marketplace for ISV's.
Prior to his successful six-year career at Microsoft, Dr. Alford led over 300 enterprise marketing automation implementations as principal consultant and has held roles as President, Technical Director, COO, VP of Sales and Marketing, VP of Sales and Marketing Automation, and Director of Integrated Data Solutions.
Dr. Alford is "that guy" that is invited into "the room" as a trusted advisor when experience matters most. He continues to learn and grow by serving, coaching, consulting, and teaching. Dr. Alford's was very fortunate in his teaching to have been entrusted with the ability to lead the marketing faculty at the Jack Welch Management Institute. This included the hiring and coaching Ph.D. marketing faculty, serving as the Marketing Faculty Lead, supporting the re-writing of the marketing curriculum, and teaching hundreds of new business thought leaders marketing, business analytics, strategy, and Capstone. Dr. Alford is on the Organizational Development Faculty of CSU Global Campus, a part of the Colorado State University System headquartered in Greenwood Village, Colorado.
Dr. Alford has a B.S. in Business Management, and MBA with a specialization in Marketing, a Doctorate in Management with an expertise in Organizational Leadership. Dr. Alford is an author with a research focus on Women in Technology Leadership.
EDUCATION / CERTIFICATIONS:
Doctor of Management / Organizational Leadership (D.M.)
Master of Business Administration / Marketing (M.B.A./Marketing)
Bachelor of Science in Business Management (B.S.)
"The Great James Madison High School", Dallas, Texas, Salutatorian
Certificate, Data Science: R Basics, Harvard University, HarvardX Campus
Certificate, Classroom Strategies for Inquiry-Based Learning, University of Texas at Austin, UTAustinX Campus
Certification, Microsoft Dynamics Fundamentals
Certification, Microsoft Global Challenger Sales Methodology
SELECTED CURRENT AND FORMER TEACHING EXPERIENCE:
Colorado State University Global Campus (Graduate School) / Professor Organizational Leadership – Modern Leadership, Management Decision Making, Ethics and Law in Organizations
Jack Welch Management Institute (Graduate School) / Full Professor and Faculty Lead – Marketing, Business Analytics, Capstone
Indiana Wesleyan University (Graduate School) / Professor, Management – Marketing Management, Healthcare Marketing
Southern New Hampshire University (Graduate School) / Professor, Business – MBA, Integrated Marketing Communications, Marketing Analytics, Consumer Behavior, Marketing Strategies
Devry University (Graduate School) / Visiting Professor II – Management Decision Making, Marketing
University of Phoenix / Professor – Marketing
Tarrant College / Adjunct Professor – Business
SELECTED PUBLICATIONS:
Book: Women and I.T. Careers: Why Women Are Leaving the Ranks of I.T. Careers and Why It's So Important They Stay – 2015
Dissertation (ProQuest): A Phenomenological Study of Women in Information Technology Leadership Positions – 2011
White Paper: The Top 3 Things You Need to Know to Achieve Business Improvement from Big Data – 2013
White Paper: Multi-Channel Analytics: The Answer to the "Big Data" Challenge and Key to Improved Customer Engagement –2013
Dallas Area Rapid Transit Retail Operations Study – 2012
White Paper: The Role and Value of Automation for Integrated Marketing Success – 2012 The LTC Group, a Vertis Company: Web Development Process – 2000
Internal White Paper: Developing Active Server Page Applications using Oracle Databases – 1999
Internal White Paper: Developing Active Server Page Applications using Microsoft Access Databases – 1998
Internal White Paper: Active Server Page Standards for DART Intranet Applications – 1998
Research Assistant / Intern – Dr. Sudalamathu Paraniappan – DART Resident Researcher. Conducted a number of quantitative studies that aimed to understand, predict and/or report ridership for present and future bus and rail extensions. 1994-1996
Research Assistant / Dr. Sudalamathu Paraniappan – DART Resident Researcher. Conducted "Lifeline Ridership Study" to determine the impact on urban and suburban riders on decreasing the frequency of bus routes to different areas of the city. 1994-1995
WHERE THE EXPERTS GET EXPERT ADVICE